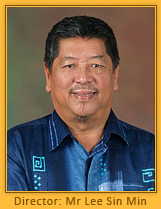 Century Bus Service Sdn Bhd was started since September 1979 and was incorporated on January 1993 by a dedicated Managing Director, Mr. Lee Sin Min. With his great leadership and experiences, Century Bus Service are able to provide our valued customers with great and excellence school bus services.

Century Bus Service Sdn Bhd owned 12 air-conditioned Bas Sekolah vans and 6 non-air-conditioned Bas Sekolah buses. Our vans and buses are identified by the "Superman" logo on the left and rear side of it.

Our main core competence is our school buses trip between Johor Bahru areas towards Singapore's school. Our pick up location cover almost all the residential area, apartments and condominiums in Johor Bahru and we have already established the confirmed routes for 11 primary schools , 9 secondary schools, 1 Republic Poly, 1 Innova JC and most of the schools situated in Woodlands, Sembawang and Yishun town.
We operate 4 trips per day from Johor Bahru to Singapore and six trips per day from Singapore, picking up pupils from their respective schools back to Johor Bahru. The 6 different trips pick up time from schools would be 12:50pm, 1:30pm, 2:30pm, 3:30pm 6:00pm and last trip on 6:30pm. Our school bus service also operates during school holidays for remedial classes, picking up pupils from homes to school and to send them home after heir classes.
See more details on Our Services for further details on school bus service »